A Message from our Pastor
There is something about our imagination; there is something about our ability to dream what is not already a reality. It gives us goosebumps on our arms and makes the hairs on the back of our necks stand on end. Our imaginations have this incredible, unbelievable ability to inspire and sustain us even through difficult and discouraging times.
That is part of what makes Ephesians 3:20-21 so astounding to me. If God can do "infinitely more than our greatest request, our most unbelievable dream, and exceed our wildest imagination!" then we'd better buckle up for the ride. I have dreams for our church family, and I know you do too.
I dream that when people ask their neighbours about this place, they will be told it is a place of peace, power, healing, help, and love.
God has put a challenge before us with this campaign, asking us to step out together in faith. He is calling us to stretch our giving, rejecting the narrative of scarcity, to link arms together as one body, rejecting the disunity around us; to lean-in and "never doubt God's mighty power to work in us (3:20), rejecting the idea that somehow this is all up to us.
This is my personal invitation to you: come join my family and I as we watch God do infinitely more than we can even dream.
- Lane Scruggs
A Message from our Chairs
Our families came to Oak Park Church of Christ (OPCC) nine years ago, drawn by the warmth of the people and strong biblical teaching. We were also attracted to the passion of this community of believers for serving the neighbourhood. This church has a heart that wants to share God's love and hope!
In addition to being a Sunday gathering place, mid-week activities bring many people through our doors. We are bursting at the seams with food and clothing ministries, youth and seniors programming, Bridge of Hope and small groups. The needs around us are great, and we are rising to meet them. It is a joy to watch relationships form and people flourish together.
God chooses to work in and through His children, and He's using Oak Park to transform lives. But He can do infinitely more!
God has amazing things in store for us as we step forward in faith! We're excited to see how God will impact our community through this initiative, and we're excited for you to be part of it!
- Michael, Julie, and Rob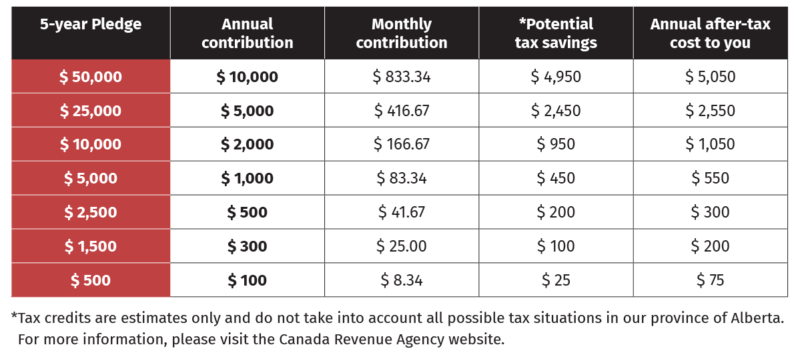 A Legacy Gift to Oak Park
If you have ever imagined making a provision in your Will for OPCC that will provide for our church's long-term ministry, and would like to learn more, please just check the box on your pledge form. We'd be happy to talk to you more about this, and a campaign representative will be in touch with you. Many great things can be achieved through a legacy gift. Everyone can do it and, with some help, it is simpler than you think!
Prayer
God, you are a God who sends. And you have invited us, your church, to "Go" with you on this journey.
You have called your people at Oak Park to go to our community and to our city. You have called us to prepare a place of radical hospitality to show the world a different way, the way of Jesus.
May you imprint these thoughts on our minds over the coming days: Generously, Sacrificially, and Joyfully!
On our own we can do so little, but with you at work among us, we can do infinitely more than we could ever imagine.

- Amen